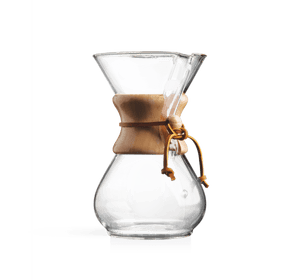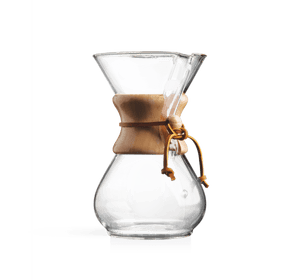 Chemex
Brewer - 6 Cup
The Chemex is an elegant, pour over coffee brewer, which provides you with a smooth, bright cup of coffee.
This single glass piece doesn't only look elegant, it also brews coffee without imparting any flavours of its own, creating clear, pure coffee without bitterness or sediment, thanks to the brilliant Chemex Filters. Due to the purity of Chemex brewed coffee, it can be covered and stored in the refrigerator for reheating, without losing its flavour. This brewer also includes a polished wood collar and leather tie which serve as an insulated handle.
View our Chemex brewing guide here
Features:
Made of non-porous, heat-resistant borosilicate glass
Includes a polished wood collar with leather tie
Capacity: 885ml
Height: 209.5mm
Diameter: 130mm
Deliveries
All orders will be dispatched within 1-2 working days. 
Standard Delivery - £2.00 per order. 2-3 day delivery. Delivery is free on all orders over £15.00 (excluding delivery fee).
DPD Delivery - £4.65 per order. 1 day delivery.
Returns & Refunds
If you are unhappy with your Puccino's order and would like to return your items, email us on: shop@puccinosww.com within 14 days of your order being delivered, informing us of the issue. We accept returns on coffee equipment, we do not accept returns on coffee or tea if ordered incorrectly through our website. Refunds will be issued back to the original method of payment within 14 days.
Returns are the responsibility of the customer, we suggest you use a trackable postal service and hold onto your proof of postage OR in the event that your goods are damaged upon arrival, we will collect the item.